This is where a treasure hides! In western Greece, in Syvota, Thesprotia, the merge of earth and sea has created a landscape of tropical beauty.
Welcome to a natural landscape of extreme beauty. Offering a scenery of breathtaking views where dense vegetation embraces the beautiful white sandy beaches and the clear turquoise waters. Domotel Agios Nikolaos is a five-star Suites Resort, a unique destination for those of you who wish to escape from everyday anxiety and relax or rejuvenate in the enchanting surroundings that nature has created.

An Experience to remember
Discover the exclusive offers and book your stay today!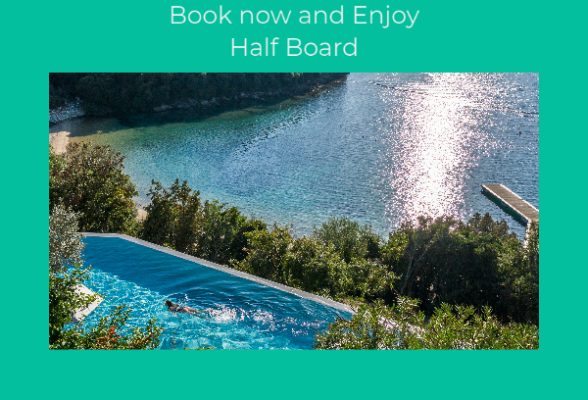 Book now and Enjoy Half Board
Benefit from our half board offer. Plan your stay and enjoy delicious breakfast and dinner in the Islands restaurant.
Wired & Wireless internet access
Parking
This is what customers say about us
Fantastic Views I travelled to Greece with two friends and stayed in a two bedroom suite . I could not fault the bedroom , staff or setting . However , we decided to eat in the main restaurant for one evening . We all had starters and main course all… read moreI travelled to Greece with two friends and stayed in a two bedroom suite . I could not fault the bedroom , staff or setting . However , we decided to eat in the main restaurant for one evening . We all had starters and main course all three were very disappointed with the meal . Meat was tough dry and awful . It was most definitely the worst restaurant meal we have had in a long time . Now everywhere can have an off day and so I decided to let the hotel manager know of our disappointment . He was not a people person and had no skills in managing a customer . He asked why I had not complained earlier he told me he had a degree in economics and all about him . He did not compensate us for the 100 euros we wasted and the loss of one night of our holiday . I must say I left very disappointed . Sorry but won't be back

Jane W

Relaxed family holidays Excellent service on all levels. Smilie faces, relaxed environments. Location is unique, view is fantastic.
Reccomend to rent a car for day tours, many POI in the area. Also hop in a boat to explore the natural treasures in the sea.
Suitable for all kind of travellers.

STAVROS T

Excellent room and atmosphere We had a pleasant weekend stay at a suite with private pool and veranda with a view of the whole gulf of Syvota with the small islands. The room facilities are incredible with huge double bed, big bath and a huge veranda with private pool. The breakfast was tasteful with… read moreWe had a pleasant weekend stay at a suite with private pool and veranda with a view of the whole gulf of Syvota with the small islands. The room facilities are incredible with huge double bed, big bath and a huge veranda with private pool. The breakfast was tasteful with a big variety and all the place is ideal for relaxing.

Vasilis T

Excellent location Excellent location, nice facilities, clean and comfortable rooms with nice view (we had a 2 rooms suite).
Private beach shared with another hotel, clean but quite small with more umbrellas and sunbeds than space capacity allows.
Nice restaurants with decent prices except for a tiny calamari included in lunch menu that… read moreExcellent location, nice facilities, clean and comfortable rooms with nice view (we had a 2 rooms suite).
Private beach shared with another hotel, clean but quite small with more umbrellas and sunbeds than space capacity allows.
Nice restaurants with decent prices except for a tiny calamari included in lunch menu that is realy overpriced.
Excellent breakfast with magnificent view.
Plus is the absense of insects even though it is full of pine trees and plants, great achievement!
Minus is the uncomfortable beds.

Spyros G

Absolutely perfect! This is my family's hidden treasure. Comfortable, silent, clean, perfect location. The restaurant is incredible, not to mention the best crew I know. Lavros, Nantos, Cristos, just to mention only the few people really keen on serving the clients. The multinational atmosphere with travellers around the world, all like a… read moreThis is my family's hidden treasure. Comfortable, silent, clean, perfect location. The restaurant is incredible, not to mention the best crew I know. Lavros, Nantos, Cristos, just to mention only the few people really keen on serving the clients. The multinational atmosphere with travellers around the world, all like a big family. You hear different languages in your ears, all singing for happiness, danish, swedish, english, papiamento, greek, hungarian, just to mention a few. Highly recommended, I will be there soon again!

Blueskyactionvv

Beautiful resort Our second stay. We had to come back to try a room in the new buildings. And we absolutely loved it!
Before arrival we had e-mail with the hotel asking for a corner room high up AND we did get it. Stayed in room 1051.
Our suite had the most amazing… read moreOur second stay. We had to come back to try a room in the new buildings. And we absolutely loved it!
Before arrival we had e-mail with the hotel asking for a corner room high up AND we did get it. Stayed in room 1051.
Our suite had the most amazing view, and
really good space and incredibly well decorated. Especially the department with bathroom and toilet was absolutely extraordinarily well made. The bed was extremely comfortable.
Well-stocked with electrical outlets, also located next to the bedside. No coffee or tee facility in the room. Could have used an overview of TV channels.
The breakfast was great with lots of choice. The only downside, as last time, was that it was a fairly long walk to the town include very steep hills, so taxi might be handy then.
As mention the views were stunning and a own beach shared with neighbour hotel had always sunbeds free. Hotel was well maintained, clean, staff friendly and helpful. Breakfast had wide selection and tasty, and the service from the beach bar were more than good!
Free WiFi, a fairly fast one and with a ok bandwidth too. It even works on the beach!

springbank

Suites With Private Pools Are Amazing … Perfect Family Holiday! We have been coming to Agios Nikolaos Resort in Sivota as a family over the past 18 years, and it never disappoints. This year, we booked two Junior Suites with private pools, and I don't think we can ever go back to just normal rooms (the suites are amazing). The… read moreWe have been coming to Agios Nikolaos Resort in Sivota as a family over the past 18 years, and it never disappoints. This year, we booked two Junior Suites with private pools, and I don't think we can ever go back to just normal rooms (the suites are amazing). The resort as a whole is really relaxing, and the staff on all of our visits have been absolutely superb. The new rooms are beautiful, with great amenity's, and stunning views. Both suites were very spacious, with a large king bed, veranda, and a private pool. We always book bed & breakfast, as we prefer to eat out at night in Sivota. However, the breakfast is excellent, and there is a variety of hot & cold food to choose from. This year they had also introduced a wellness pool (adults only), and for 20 Euros a day you can sit there until 9pm at night. The offer includes a cocktail, and some nibbles and we found it very relaxing. If you are looking for a week of complete relaxation with friendly staff, and great views, then this is certainly the place to come; I have no doubt we will be back.

Lucy162

Great location & scenery, poor service Room:(+) spacious, great bed, clean with great view (-)no coffee amenities
Food: only the breakfats was dicent, the romm service and pool restaurant had very small portions for high price.
Access: problematic due to the slopes and stairs but nothing to trouble about
Beach: bad quality of sand with sharp aggregates (not natural),… read moreRoom:(+) spacious, great bed, clean with great view (-)no coffee amenities
Food: only the breakfats was dicent, the romm service and pool restaurant had very small portions for high price.
Access: problematic due to the slopes and stairs but nothing to trouble about
Beach: bad quality of sand with sharp aggregates (not natural), absence of personnel
Service: poor and inadequate, unprofessional, without basic training. the hotel needs a manager to actually run it

Eleni P

Fantastic Views Fantastic setting – superb views of the sea and the islands from much of the site. Had a 2 bedroom suite – spacious, plenty of room for 4 people, fabulous views. There was a small kitchenette which was useful at lunchtime. Very comfortable beds. Extensive breakfast buffet…. read moreFantastic setting – superb views of the sea and the islands from much of the site. Had a 2 bedroom suite – spacious, plenty of room for 4 people, fabulous views. There was a small kitchenette which was useful at lunchtime. Very comfortable beds. Extensive breakfast buffet. Surprised by the small portion sizes in the Pool Bar – profiteroles €9, only one – salad €12, only covered half the plate. Would have preferred it if the 'classic pop' from the Beach bar wasn't so loud, so you didn't have to listen to it on the beach – but it was quieter on the pontoon. There are 2 medium-sized pools but one of them is adults only and you have to pay €20 per day to use it – bizarre. We walked into Sivota most evenings – 10-15 minutes, not a problem but there is a hill.

lkjh

Great hardware / bad software It is a very nice hotel in a perfect setting, the room product, I stayed in a junior pool suite, is excellent and brand new. However having a nice building is not good enough, I believe the management needs to wake up. With a rate of 400,-€ plus you don't… read moreIt is a very nice hotel in a perfect setting, the room product, I stayed in a junior pool suite, is excellent and brand new. However having a nice building is not good enough, I believe the management needs to wake up. With a rate of 400,-€ plus you don't expect to get charged for a btl of water 1,-€. It's not the money, its the principal. We had 1 btl water on arrival and 2 capsules of coffee free, everything after that was charged. Guys, increase the rate by 10,- and give the things for free and the guest will fell better. Incan not recall a hotel which is charging for this in this league.
The room amenities are of cheap quality, the pools have no towels available, and as a suite guest you have ZERO benefit. If you want to swim in the ' adult pool ' you have to pay 20, – € per person extra. Ridicules. The wardrobe hangers are this cheap 'safety ' hangers which you can't use anywhere.
Suite 1463 has a side window, but no blackout, so I had to cover it every night with a towel.
After 14.30, this beautiful pool suite has no shade which make it impossible to enjoy the terrace and pool. You have to leave the room.
Breakfast is 3 star, very basic, and at 08.30 the burners of the shaving dishes are of already, so cold food. If you want an espresso instead of the terrible frozen coffee concentrate, you get charged 3,50 extra. That was also a first for me.

Long story short, the employees are very friendly and helpful, I believe understaffed, obviously with my comments above the owners want to milk the cow as much as possible, the employees make up for all the short comings of the invisible management. There is No interest to great an experience for the guest, they are so sure of themselves because of the unique location.
The property has BIG potential, but WRONG management!!

York B

Amazing place and fantastic hotel The hotel is fantastic and perfectly integrated into nature.
Excellent breakfast.
Only problem one night due to our neighbors ( we were near Laurence R of INSANE) they hadextreme sex with screams that scared the kids through the night also getting wounds.
This is really INSANE !!!!

Giovcap963

Lovely hotel – probably the nicest in Sivota – but with issues This place is lovely – truly – leafy walkways to quiet and private rooms that are always nice – with often a lovely view of the bay –
clean and spacious rooms also – with very comfy beds and an air of quality – however – its a little… read moreThis place is lovely – truly – leafy walkways to quiet and private rooms that are always nice – with often a lovely view of the bay –
clean and spacious rooms also – with very comfy beds and an air of quality – however – its a little dated now and despite a superb refit – its still 20 years old with small balconies – and a mainly greek / german occupation – and there are evidences of the typical culture that German tourists are so skilled at – towels on sunbeds for multiple locations !!

Management of the hotel is a little poor – whilst there are fantastic staff in the breakfast room and the hotel bar – the rest is a little wish-wash – and its a times expensive – and my main gripe it the main general manager – who seems to be completely unaware of his surroundings – beach bar cocktails served with a very unhealthy helping of some punk rock F inf this and F – inf that noise ! – hes on his phone all the time so he cant be bothered – the overcharge for use of the new pool area – they do weddings that make you not able to sleep on a saturday night – and they will overcharge for the rooms minibar –

lovely place – please focus on the experience – rather than the money !!!!

totallylost11

Excellent hotel with very helpful staff and a fantastic view over the blue waters. We had a memorable holiday at Domotel Agios Nikolaos in Syvota, Greece.

We were two families from Denmark travelling with folkeferie.dk.
One family with two children at 11 and 16, and one family with a baby at 11 month.

The staff was always helpful and friendly and especially kind to our children.
We… read moreWe had a memorable holiday at Domotel Agios Nikolaos in Syvota, Greece.

We were two families from Denmark travelling with folkeferie.dk.
One family with two children at 11 and 16, and one family with a baby at 11 month.

The staff was always helpful and friendly and especially kind to our children.
We would like to name two staff members explicitly, Mr Vangelis and Restaurant Supervisor Nantos Miskos, for their way of managing their jobs and their attitude towards our families.

The rooms were clean, large and always kept clean and tidy by the staff, while we were out. New towels for the pool/beach delivered every day.

We had our own terrasse, which was mostly used for drying clothes.
But also with a beautiful view of the bay with the blue and clear water.

The hotel, which is shaped "into" the surrounding landscape in the nicest way, had two pools. One "quiet" pool, if one wanted to pay € 20 extra, and one for families with children.
Not that there was any difference in size or the area around the pools.
There was a nice view from both pools and also a possibility of bathing/diving from the beach owned by the hotel, in the crystal clear seawater. Also their was the possibity to sunbath from the wooden jetty in the sea near the beach.

The hotel also had paddle boards and canoes for rent for only € 10 per hour.

We travelled with folkeferie.dk and the guides were always ready to help with e.g. renting a motor boat and have it delivered to the hotel, at no extra cost.
With the boat, up to 30 hp without certificate, one can easily reach the nearby islands with all kind of beaches, caves and possibilities to swim at the Blue Lagoon or dive to explore the underwater world. The water was always crystal clear, regardless of the weather. We had one or two windy days with a few clouds during our two weeks stay.

Our stay included breakfast served in one of the three restaurants, besides the beach bar. There was all one could wish for at breakfast.
All three restaurants with the nicest view over the bay, seen on many photographs on the hotels website.

We mostly had lunch in the restaurant nearest the pool and went down the mountain to Syvota for evening meals. A bit exhausting, but we preferred to walk the steep hills, even with a baby pram and 6 big bottles of water every evening. The water at the hotel is drinkable, but has the taste of demineralised saltwater.
A taxa back and forth is only € 10.

In town you'd have the possibility of a cheaper meal, but the food at the hotel, which also had a gourmet restaurant, was excellent.
We only tried the gourmet restaurant at the hotel once, mostly to save money, because the menu was really an appetiser.

We tried only the local wines and was not disappointed.

Most days we spent by the poolside and in Syvota and on minor trips in a motor boat. Also the nearby beach area on the other side of the mountain with the possibility of wading to the next island was enjoyable.

One tremendous and beautiful tour we'd like to recommend, is the visit to the river Hades/Styx, where we as a group waded, was svimming and climbing up the river. The water was chilly but the efforts to walk up the river quickly made us forget all about the temperature of the water and we were easily captured by the beautiful surroundings and the joy forcing us up the riverbed. The water was clear and the view of the tall cliffs on both sides, were magnificent.

All in all a memorable holiday and we'd love to return to the hotel in the future for another holiday. I cannot think of any hang ups, except for the coffee in the morning.
One could however at an extra cost buy cafe latte etc.

Viljestyrke1