Mountain Charm with rich history
A unique resort in a mountainous landscape, where the earthy colors combined with the unique facilities and the stunning view, offer a once in a lifetime experience.
Welcome to Domotel Anemolia Mountain Resort! Idyllically located on the outskirts of the historic Arachova village, Domotel Anemolia Resort offers unique views across the Delphi Valley and the Parnassos mountain range. Domotel Anemolia is the ideal base for exlporing the nearby Delphi Archaeological site, the picturesque Galaxidi fishing village, the Byzantine monastery of Osios Loukas and Parnassos mountains, which are perfect for snow skiing during winter (usually January – March) as well as for trekking, mountain biking in summertime.

feel the warmth of country style
Events with a unique view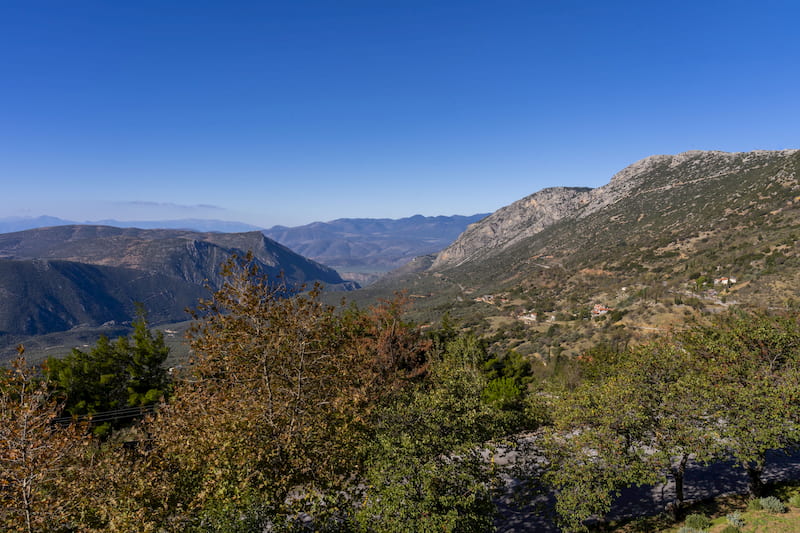 Nestled on Mt Parnassos, Arachova is a town that has been transformed into a popular destination for those seeking winter sports and relaxation. Mostly famous for its cosmopolitan vibe, Arachova is called the title "Winter Mykonos". 
It sits at an altitude of 973 meters and thanks to its proximity to Athens, the winter months see it buzzing on weekends with city slickers escaping the city for a break in the refreshing mountain air.
Would you like a romantic walk at the picturesque paved alleys? A walk in Arachova, reveals its beautiful surroundings combining the old with the new. 
Discover the exclusive offers and book your stay today!
This is what customers say about us
Amazing views, remote location.. Our tour group arrived at this hotel and were greeted with complimentary ouzo, which was a nice touch. We got a newer room which was like a cabin with a fireplace, very rustic and we had a balcony with a view from the side which was very nice. … read moreOur tour group arrived at this hotel and were greeted with complimentary ouzo, which was a nice touch. We got a newer room which was like a cabin with a fireplace, very rustic and we had a balcony with a view from the side which was very nice. Buffet dinner was below average, meats were tough, I found some salad and pasta to tide me over, my husband could not and went to bed pretty hungry that night, it was a bland buffet. Not much to offer in the town either. Its more a winter destination. Breakfast the next morning was mediocre at best.

RamblingBelle

Nice for a quick stay Very well positioned in the town. Easily accessible. Nice meals area and breakfast. Noisy hallways, could hear other guests at midnight. Late check-in. Back room had view of concrete driveway. Shower rose wouldn't stay up. The room was nice and comfortable.

3Star4Priceof5

Congress – weekend A very good Hotel to stay for business or pleasure in Arachova. With wonderful view, cozy atmosphere and friendly staff. Gym, swimming pool and relaxing walking around are some of the facilities a traveler can enjoy.

MarinaK1425

Great family stay, I definitely recommend it We are a family of 4 that stayed in an executive family room for 3 nights. The room was really fresh-looking, very clean and comfortable, it also had a fireplace and a very large balcony with breathtaking views. The staff was very welcoming and kind, both at the reception… read moreWe are a family of 4 that stayed in an executive family room for 3 nights. The room was really fresh-looking, very clean and comfortable, it also had a fireplace and a very large balcony with breathtaking views. The staff was very welcoming and kind, both at the reception and in the breakfast room. There is spacious parking just in front of the hotel entrance, which is quite hard to find in hotels around the area.
The location of the hotel is ideal (just 3 minutes from Arachova and very convenient if you want to go for skiing without getting stuck in Arachova's weekend morning traffic). We really enjoyed it and we will definitely come back in the future. I recommend it without any second thoughts.

dgeorgoulis

Charming, but rooms could be updated a bit I had room 314 and it is nice size, though not very updated. The balcony has a round table and two chairs and a nice view of the mountains and valley. I especially liked that the electrical plugs were conveniently located. Wi fi is excellent…. read moreI had room 314 and it is nice size, though not very updated. The balcony has a round table and two chairs and a nice view of the mountains and valley. I especially liked that the electrical plugs were conveniently located. Wi fi is excellent. Staff is very friendly.

Be forewarned that the air-conditioning unit in this room leaks, so even though the luggage bench is just below it, move your belongings out of the way. I did report it, so it may be fixed.

Even numbered rooms are on the view side.

EstherP1882

More than decent, beer in area If you are looking for a hotel type accommodation but with the option of small private suites, with fireplace and extra beds for kids then this is the hotel for he instance.
Also suitable for meetings, with very large meeting rooms.
Front desk Staff, however are not cooperative. I asked for an… read moreIf you are looking for a hotel type accommodation but with the option of small private suites, with fireplace and extra beds for kids then this is the hotel for he instance.
Also suitable for meetings, with very large meeting rooms.
Front desk Staff, however are not cooperative. I asked for an invoice and not a receipt and I was bullied.

Kanistras

Endless care, superb location, amazing food In May 2019 I was there with my group for 2 nights and oh I wish it had been longer. It is an amazing place to stay for a week and from there you can explore Delphi and the area of the Parnassos Mountains, Arachova and the stunning coast line… read moreIn May 2019 I was there with my group for 2 nights and oh I wish it had been longer. It is an amazing place to stay for a week and from there you can explore Delphi and the area of the Parnassos Mountains, Arachova and the stunning coast line and huge olive tree grove. The hotel has everything you need including a pool, conference rooms, a fabulous restaurant, good rooms; most with stunning views, a fabulous lounge area and the staff is brilliant! I can go on and on. Much recommended, also for groups. I rate them 5 stars. I hope to be back before too long.

AnnekeK104

Good but needs improvements We stayed at room 318 which is a mini suite.The room was very spacious,with comfortable bed , large bathroom and a fireplace.The room has a very nice view from the windows.There were only two cons ,the first one was that the room door couldn't be closed or opened easily and… read moreWe stayed at room 318 which is a mini suite.The room was very spacious,with comfortable bed , large bathroom and a fireplace.The room has a very nice view from the windows.There were only two cons ,the first one was that the room door couldn't be closed or opened easily and we had to push very hard every time.The second one was that for a mini suite ,there was no kettle to make tea or coffee.Additionally the pool was not warm (we went in February) and there were no lights at the swimming pool in the afternoon.

Efi_Ntivanidou

An average hotel Arrived on 1st of Jan 2018 and left earlier than plan by 2 days due to an unexpected cold weather that caused some of the ski slopes to shut down and unclear visibility caused by fog. Location of the hotel is good, 3 minutes drive to main town center and… read moreArrived on 1st of Jan 2018 and left earlier than plan by 2 days due to an unexpected cold weather that caused some of the ski slopes to shut down and unclear visibility caused by fog. Location of the hotel is good, 3 minutes drive to main town center and 40 minutes drive to ski slopes. Only tried breakfast at the hotel which was good. There were some confusion in the rooms reserved and one room was smelly and worn out, while the other room was average. Unfortunately the executive rooms are upgraded and a bit modern (recommended). The GM of the hotel tried to fix the rooms confusion as much as possible so we (family of 6) ended up in the executive room (2 floors) as a best solution. If you decide to stay in this hotel then go for the front view of the hotel. The hotel has a gym, heated pool and sauna. There are other unexplored hotels in the town so you can check them as well if you decide to go there. The town has 1 main small street where all the shops, Restaurants, cafes and bars are located. Make sure to be precise in your ask when booking at this hotel.

ymnada

Just average We had a standard room. The bedding was subpar. It appeared to be old and out dated. The bathroom was functional and clean. The water pressure I. The shower was great. Our view was of the mountain side which at first seemed rather unexciting. But then, the mountain goats started… read moreWe had a standard room. The bedding was subpar. It appeared to be old and out dated. The bathroom was functional and clean. The water pressure I. The shower was great. Our view was of the mountain side which at first seemed rather unexciting. But then, the mountain goats started coming down a little path. We enjoyed watching them. The views from the main balcony in the hotel were amazing. We spent most of our time in the hotel on the outdoor patio and balcony area. The staff was friendly and courteous. Overall, I liked this hotel. The views alone are reason enough to stay here.

wtpoohb

nice hotel in arachova We stayed for 2 days in this hotel, during a business trip. The room was spacious and clean with a nice balcony. The breakfast was just fine and it's a pity that in such a beautiful area, with so much variety of local cheese and dishes, they offer typical English… read moreWe stayed for 2 days in this hotel, during a business trip. The room was spacious and clean with a nice balcony. The breakfast was just fine and it's a pity that in such a beautiful area, with so much variety of local cheese and dishes, they offer typical English breakfast… I would suggest to improve their breakfast and offer better quality of food (especially juice was awful) as well as offer Greek breakfast with local products in order to get an excellent rate!

dremland

Great accommodation Friendly staff, good location and comfortable rooms. It could have been closer to the ski resort, but it won't be a problem if you start early. The best Arachova hotel I have visited yet. The pool is a good luxury provided, but a bit uncomfortable for quiet people as… read moreFriendly staff, good location and comfortable rooms. It could have been closer to the ski resort, but it won't be a problem if you start early. The best Arachova hotel I have visited yet. The pool is a good luxury provided, but a bit uncomfortable for quiet people as there are a lot of kids. The room we stayed at was great, but make sure-before you book-to get one at the new wing. The view was also satisfactory but the breakfast was a bit poor. Not that you couldn't eat what you wanted, but I have been at hotels with a plethora of choices in Arachova (ex: fresh juices, handmade sweets or cakes). Over all: a good choice.

theoiako

Stunning views excuse other faults I did not have the joy of having a room facing the gorgeous views which I then enjoyed from the balcony. But the top floor room was spacious and lovely. Shower worked well, bed was comfortable except for the pillow which was too firm and uncomfortable. Dinner was nothing special,… read moreI did not have the joy of having a room facing the gorgeous views which I then enjoyed from the balcony. But the top floor room was spacious and lovely. Shower worked well, bed was comfortable except for the pillow which was too firm and uncomfortable. Dinner was nothing special, tasteless and dull, and the waiters were rushing to clear the tables so that when we went for the desert (the tray almost empty so we had share a piece of cake) they had taken away our unfinished drinks from the table. Also breakfast was disappointing, the scrambled eggs tasted really weird and were left on the plate.

GlobeHope

Value for money-nice view The hotel is located 500m from Arachova on the main road (this is not a problem-there is no noise at all). The common areas where
Very cosy and offered many comfortable seatings with great view to the mountains. Our room was not one of the renovated ones, but was still comfortable… read moreThe hotel is located 500m from Arachova on the main road (this is not a problem-there is no noise at all). The common areas where
Very cosy and offered many comfortable seatings with great view to the mountains. Our room was not one of the renovated ones, but was still comfortable and ok. Really very warm!!! The receptionist was kind and upgraded as to a room with view. There is an indoor swimming pool which we didn't use but seemed nice. There is a mini bus on Saturday to take you to Arachova at night. There is free parking and free wifi. Although it was nothing exquisite it is Overall a value for money choice and I would visit again.

Katerina S

Dissapointing I knew we were stepping into a non posh ski resort environment, but was very disappointed with several things. (1) the rooms were extremely disappointing and what was more disappointing is to find out the pics on the web are a new extension that is very modern and well kept,… read moreI knew we were stepping into a non posh ski resort environment, but was very disappointed with several things. (1) the rooms were extremely disappointing and what was more disappointing is to find out the pics on the web are a new extension that is very modern and well kept, unlike the other "older" section where our rooms were assigned, which were close to pre historic. (2) no shuttle service to town and back or to the ski slopes and back. (3) no ski storage facility. (4) the pool was beyond non swimmable and again nothing like the pictures you see on the web. (5) very poor breakfast and options.

Maybe if our rooms would have been in the new modern and well kept section I would have had a completely different experience, and disregarded the other shortcomings. But we were not even told that there are old rooms and new rooms, and were not asked to pay more at any stage. It was a surprise that we were faced with there and then !

linafateen