Escape to your private Eden
Hotel Olympia is a contemporary pleasing hotel with intellectual design, right in the heart of Thessaloniki, housed in a historic building that belongs to the same family since 1929.
Welcome HO is an elegant city break hotel, in the centre of Thessaloniki. Clean lines, natural and dynamic materials such as wood and granite, earthy colours, design furniture and impressive objects are all combined to create a picture of frugal elegance. This environment along with an excellent service, make HO the suitable destination for the modern urban guest, the leisure or business traveler.

Technological Superiority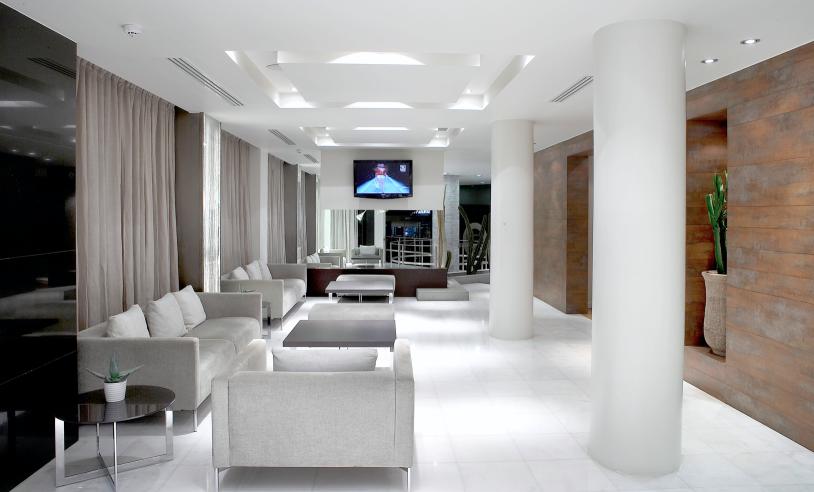 This is what customers say about us
Generally nice! The overall impression of the hotel is good. It's location is super. The things we didn't like although it's was decent was the bathroom of the room and the led light behind the headboard. The shower was strange and having a curtain there was not practical. Also the led light… read moreThe overall impression of the hotel is good. It's location is super. The things we didn't like although it's was decent was the bathroom of the room and the led light behind the headboard. The shower was strange and having a curtain there was not practical. Also the led light in combination with the pastel green wall which was nice make the lighting of the room annoying.

stylianosk316

12/26/2018

Very good friendly and excelent location Like everywhere in Greece people are so warm, friendly and helpful with honesty and dignity it is hard to envision the hotel w/o its wonderful staff. Which help you ignore the small stuff you may encounter during your stay.
Regardless the small bathroom and lack of individual A/C the stay was… read moreLike everywhere in Greece people are so warm, friendly and helpful with honesty and dignity it is hard to envision the hotel w/o its wonderful staff. Which help you ignore the small stuff you may encounter during your stay.
Regardless the small bathroom and lack of individual A/C the stay was very pleasant. The breakfast is really second to none, outscoring German's by far. The location is just great and the people are again great.

Yuval D

4/11/2018

Great hotel Great hotel with very friendly and helpful staff. Ideally situated in the city. The staff were very patient as I tried my best Greek on them. If there had been tea/coffee trays in the rooms I'd have given it 5 stars.

Rebecca S

6/13/2018

Nice spot. Hotel OLYMPIA is situated in the centre and it's only a short walking distance from everything . It's clean , minimal and very comfortable . Breakfast is suitable and staff are polite . A worthwhile stay which is affordable .

Poppy k K

11/12/2018

hotelvery impressive and nice the atmosphere is clean & professional, the whole staff, in the reception, the dining room, the chambermaid, pleasant ready to help. the room is modern and to be maintained. the breakfast is rich and fresh. very good place with very good price. close to all main places in thessaloniki,… read morethe atmosphere is clean & professional, the whole staff, in the reception, the dining room, the chambermaid, pleasant ready to help. the room is modern and to be maintained. the breakfast is rich and fresh. very good place with very good price. close to all main places in thessaloniki, to go on foot: aristo sq' kafani market, the white tower, ladadika, ano poli, the rotunda… the main st' agnetia, is 5 min' from hotel.

NAHUMIS

4/29/2019

Just good.. Well, i'll try to be straight to the point by stating the goods and bads of the hotel.

Goods:

1) Clean hotel and rooms.
2) Friendly and polite staff.
3) Reasonable price.
4) Quite modern and well decorated rooms.

Bads:

1) Same brekfast menu every day.
2) Tiny rooms and spaceless bathroom (couldn't even move within the bathroom)
3)… read moreWell, i'll try to be straight to the point by stating the goods and bads of the hotel.

Goods:

1) Clean hotel and rooms.
2) Friendly and polite staff.
3) Reasonable price.
4) Quite modern and well decorated rooms.

Bads:

1) Same brekfast menu every day.
2) Tiny rooms and spaceless bathroom (couldn't even move within the bathroom)
3) Not the closest to the city centre.
4) Paid for double bed and got two single beds.

judger10

3/16/2019

It's alright… The hotel is in the centre of Thessaloniki. You literally can walk pretty much anywhere you like from there. There is decent breakfast and the rooms are clean. That's about it really.

However there are several parts in the hotel description that don't paint the full picture. There is no parking… read moreThe hotel is in the centre of Thessaloniki. You literally can walk pretty much anywhere you like from there. There is decent breakfast and the rooms are clean. That's about it really.

However there are several parts in the hotel description that don't paint the full picture. There is no parking at the hotel, there is a private parking 15 minutes away and you pay like everyone else. You don't get a special deal and you have to walk up and down steel hills with your suitcases.

There is breakfast but you have to pay for coffee. I mean for the love of God a cup of coffee costs 2 euros, why would they come to us in the middle of breakfast and say "coffee costs extra here"…

The description also says pets are allowed but there may be additional charges. What it should say instead is that pets are allowed in your room – not at breakfast – and there will be additional charge of 15 euros a day.

Staff are not the politest people I ve met in my life…it could be worse though

YannisPsarras

12/22/2018

Nice little hotel I stayed in Hotel Olympia for 6 nights. Buffet breakfast is included in the price. Very good choice and fresh. It is very good value for money. The bathroom is a bit small but very clean. There's daily maid service. It is very well located. It is 5 minute walk… read moreI stayed in Hotel Olympia for 6 nights. Buffet breakfast is included in the price. Very good choice and fresh. It is very good value for money. The bathroom is a bit small but very clean. There's daily maid service. It is very well located. It is 5 minute walk to Aristotellous square where I was picked up for all of my tours.
I ate dinner twice at the restaurant. One night,I had the Greek salad with Octopus which was way too experimental for me. It was on a bed of "sand". Unfortunately it tasted like sand too. The cucumber was in rolled up ribbons. It was not very well dressed. The other night I had a seafood risotto in a creamy ouzo sauce. It was one of the best risottos I've had in a restaurant. Perfect texture and taste. The staff are extremely courteous and professional.

limefroggy K

8/12/2018

Comfortable stay, nice staff The Olympia hotel is placed near the city center but in a quiet area. The room could be small or good size, it's depend on the budget 🙂
The breakfast is good and restaurant serves fresh and tasty daily menu.
Good cleaning service, nice staff in restaurant and reception.

785gabrielah

12/04/2018

decent hotel this is a good option not far from the center with clean rooms and acceptable breakfast. for those who are in need of internet connection, it should be noted that wi-fi is too weak, almost does not exist.

bornin1971

2/19/2018

Very nice and comfortable hotel! Close to the center of Thessaloníki. Very friendly personal and clean and nice rooms! The price for the rooms is very good. Breakfast is included and also very good. In the rooms there is a conditioner so it is not hot as outside.

Granatik_1

5/27/2019

For what it is..it is very good!! For a 3 star hotel this is a really excellent property.
stayed there for 2 nights in february traveling with my partner and my parents as one night stop over to other destinations.
pluses:
clean and modern
very comfortable bed
excellent location (even some abundant parking near by)
Good breakfast
Very helpful staff

Minuses..
reeaaally tiny rooms….. read moreFor a 3 star hotel this is a really excellent property.
stayed there for 2 nights in february traveling with my partner and my parents as one night stop over to other destinations.
pluses:
clean and modern
very comfortable bed
excellent location (even some abundant parking near by)
Good breakfast
Very helpful staff

Minuses..
reeaaally tiny rooms.. i mean the bed is perfect but hte rest of the room.. especially the bathrooms are tiny
the "view" from the hotel is just the ugly building across the street.. is that something that can be improved? no of course not and its not the hotels fault. but it is something to be aware of

If you want to spent several days in thessaloniki and by extension you will be spending more time in the hotel then perhaps this will prove a bit cramped. But if you are just passing through or you plan to spend all your time outside then this hotel is IDEAL!
i would gladly stay there again

Babiskiss

3/05/2018

Very good breakfast, very good location and very clean. I recommend it! +very good breakfast
+very clean
+very good location

-very small room, but we arrive in the evening in the room … so no problem after all 🙂
-maximum 10 parking space in front of the hotel. We left the car one night on a parking 5 minutes walking they are working… read more+very good breakfast
+very clean
+very good location

-very small room, but we arrive in the evening in the room … so no problem after all 🙂
-maximum 10 parking space in front of the hotel. We left the car one night on a parking 5 minutes walking they are working with for just 9 euro, so it was ok.

Duty16

8/01/2018

Very good experience I stayed in Hotel Olympia twice for one night while travelling in the region. The hotel is very conveniently located, within a walking distance to all major attractions and restaurants. There is a small parking in front of the building and there are some free public spots available in the… read moreI stayed in Hotel Olympia twice for one night while travelling in the region. The hotel is very conveniently located, within a walking distance to all major attractions and restaurants. There is a small parking in front of the building and there are some free public spots available in the streets around. The hotel is very clean, the rooms are not huge, but big enough to stay comfortably. A big plus is friendliness and courtesy of the staff, they were very helpful from the moment of booking until the check-out. What I enjoyed the most is the breakfast, I really didn't expect it to be so rich and tasty in a 3-star hotel. Overall, I recommend the hotel to everyone, whether for shorter or longer stays.

Rafał P

7/01/2018

Friendly, central, good value. We stayed 2 nights and were completely satisfied with our experience. Parking was available right outside (and the staff are very good at leaping out to help with manoeuvring), the room was fine in every aspect….our friends had a room that seemed much smaller and more cramped, I must admit…. read moreWe stayed 2 nights and were completely satisfied with our experience. Parking was available right outside (and the staff are very good at leaping out to help with manoeuvring), the room was fine in every aspect….our friends had a room that seemed much smaller and more cramped, I must admit. We had a balcony, fridge, very good Wi-Fi , A/C. Only gripe may have been the tiny bathroom (with shower curtain!) but not really a problem. Very friendly, helpful staff, excellent breakfast buffet….we would definitely use the Olympia again should we need a hotel in Thessaloniki.

Maggyv

5/16/2018