Escape to your private Eden
Hotel Olympia is a contemporary pleasing hotel with intellectual design, right in the heart of Thessaloniki, housed in a historic building that belongs to the same family since 1929.
A modern getaway in the centre of a buzzing metropolis, Domotel Olympia complements its surroundings with exquisitely contemporary design, favouring elegant lines and a light colour palette, details ideal for networking or just relaxing on a
leisure experience. Its meeting facilities provide the perfect backdrop and equipment for corporate excellence, with an inviting restaurant and a stylish bar that offer handpicked flavour options from morning till night as well as rooms tailor made to suit the traveler of today.
Technological Superiority
Discover the exclusive offers and book your stay today!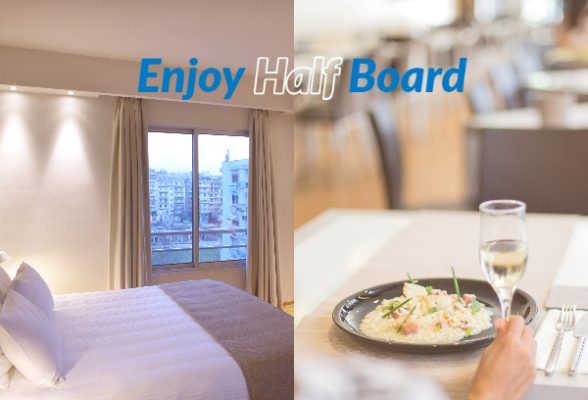 Book Now and Enjoy Half Board
Benefit from our half board offer. Plan your stay and enjoy delicious Certified Greek «Kalimera Breakfast  and dinner in the restaurant or in the room.
Wired & Wireless internet access
Parking upon request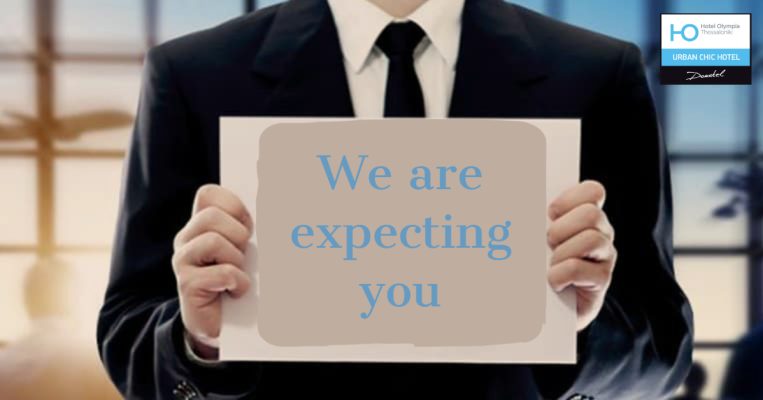 Airport Transfer Package (SKG)
Accommodation: Select between our Standard Room or Executive Room
Τransfer from/to the airport
Wired & Wireless internet access
Certified Greek «Kalimera Breakfast»
Private balcony with view to the Ancient Roman Forum or to the old Governor's House
This is what customers say about us
Very good experience I stayed in Hotel Olympia twice for one night while travelling in the region. The hotel is very conveniently located, within a walking distance to all major attractions and restaurants. There is a small parking in front of the building and there are some free public spots available in the… read moreI stayed in Hotel Olympia twice for one night while travelling in the region. The hotel is very conveniently located, within a walking distance to all major attractions and restaurants. There is a small parking in front of the building and there are some free public spots available in the streets around. The hotel is very clean, the rooms are not huge, but big enough to stay comfortably. A big plus is friendliness and courtesy of the staff, they were very helpful from the moment of booking until the check-out. What I enjoyed the most is the breakfast, I really didn't expect it to be so rich and tasty in a 3-star hotel. Overall, I recommend the hotel to everyone, whether for shorter or longer stays.

Rafał P

decent hotel this is a good option not far from the center with clean rooms and acceptable breakfast. for those who are in need of internet connection, it should be noted that wi-fi is too weak, almost does not exist.

bornin1971

Impeccably clean, central, helpful staff and value for Money We liked this hotel. It is impeccably clean, staff are helpful and the rooms are comfortable. The decor is very slick and modern with lovely functional bathrooms. The shower was spotless, powerful and efficient.

The hotel is in a very central location, being walking distance to the main shopping areas,… read moreWe liked this hotel. It is impeccably clean, staff are helpful and the rooms are comfortable. The decor is very slick and modern with lovely functional bathrooms. The shower was spotless, powerful and efficient.

The hotel is in a very central location, being walking distance to the main shopping areas, Roman ruins and harbour. There are nearby bars, restaurants and mezze/souvlaki places too. The hotel was busy with most of the rooms being occupied at this time of the year. Despite this, it was very quiet and we did not hear any noises from our room from the neighbouring rooms or the road.

The breakfast had also a good variety of items, with a corner dedicated to Greek products …from making your own Greek coffee on a stove to traditional sweets, olives, Greek cheeses, Greek filo pastries pies, Greek yoghurts and breads. The variety was ample and quickly replenished. The waitresses were also courteous and always smiling.

Actually all the staff were kind and helpful. We were allowed to check-in late too, as we were out at a wedding till the early hours of the morning. They genuinely cared and even the housekeeper greeted me with a smile and ascertained me that she would not wake up the rest of my family erroneously after the late night out.

This hotel is excellent value for money and if spending a few days in Thessaloniki, we have no hesitation to recommend.

I have recently stayed in Dublin (separate review) and the difference in standard between the 2 hotels, is an ocean apart. The Olympia hotel is the epitome of what a mid-range hotel should offer: comfort, cleanliness and good value for money. Maybe the Dublin hotel management should check this hotel out at some point of their careers.

Thank you Olympia Hotel staff for making our stay comfortable, pleasant and memorable.

frawla

Exceeded our expectations!! Situated next to aristotelous square everything is just a walk away! The hotel looks very chic and modern compared to its surroundings and gives you immediately an excellent impression. The room is everything that you need for a short stay. Looks like everything has been thought of to make your… read moreSituated next to aristotelous square everything is just a walk away! The hotel looks very chic and modern compared to its surroundings and gives you immediately an excellent impression. The room is everything that you need for a short stay. Looks like everything has been thought of to make your stay as comfy and pleasurable as possible. The room is new and modern of minimal design with a comfy bed and wooden floor to create a cosy atmosphere. Has a small tv, a safe and fridge. Dove and lux shower gel is an extra detail that shows customer satisfaction its important. The staff goes out its way to help and assist with any requests. The breakfast is superb from local produce (honey, olives, feta, cheese, traditional bread rolls) to crepes, cakes and croissants to cater all tastes.

livelifeasaholiday

Very nice and comfortable hotel! Close to the center of Thessaloníki. Very friendly personal and clean and nice rooms! The price for the rooms is very good. Breakfast is included and also very good. In the rooms there is a conditioner so it is not hot as outside.

Granatik_1

Very good breakfast, very good location and very clean. I recommend it! +very good breakfast
+very clean
+very good location

-very small room, but we arrive in the evening in the room … so no problem after all 🙂
-maximum 10 parking space in front of the hotel. We left the car one night on a parking 5 minutes walking they are working… read more+very good breakfast
+very clean
+very good location

-very small room, but we arrive in the evening in the room … so no problem after all 🙂
-maximum 10 parking space in front of the hotel. We left the car one night on a parking 5 minutes walking they are working with for just 9 euro, so it was ok.

Duty16

Great hotel Great hotel with very friendly and helpful staff. Ideally situated in the city. The staff were very patient as I tried my best Greek on them. If there had been tea/coffee trays in the rooms I'd have given it 5 stars.

Rebecca S

Very modern and artistic among the old pattern around stayed there for 4 nights (10-14 July 2018) with my wife and enjoyed staying there thoroughly. Helpful front desk staffs. Good collection in continental breakfasts and fresh. Good housekeeping. I loved the deco details starting from reception area and all corridors. I would highly recommend this place if anyone looking… read morestayed there for 4 nights (10-14 July 2018) with my wife and enjoyed staying there thoroughly. Helpful front desk staffs. Good collection in continental breakfasts and fresh. Good housekeeping. I loved the deco details starting from reception area and all corridors. I would highly recommend this place if anyone looking for accommodation around. BTW, we booked through Expedia.

Mohammad B

Excellent Service and Fantastic Food We arrived at the hotel just after midnight on New Years Day. We were tired and extremely hungry and asked the staff if it was possible to get something to eat. The manager went out of his way to accommodate our request, which we deeply appreciated. The hospitality continued… read moreWe arrived at the hotel just after midnight on New Years Day. We were tired and extremely hungry and asked the staff if it was possible to get something to eat. The manager went out of his way to accommodate our request, which we deeply appreciated. The hospitality continued throughout our stay – the staff were very friendly and would happily accommodate any requests.

We ate at the hotel every night as the food was the best that we had in Greece – and the prices were very reasonable. The breakfast was also top notch – again. probably the best we had on our trip in terms of quality and variety.

The rooms are clean and the bed and pillows comfortable. Whilst the shower is small, it was tolerable because it was clean.

peter1107a

Nice little hotel I stayed in Hotel Olympia for 6 nights. Buffet breakfast is included in the price. Very good choice and fresh. It is very good value for money. The bathroom is a bit small but very clean. There's daily maid service. It is very well located. It is 5 minute walk… read moreI stayed in Hotel Olympia for 6 nights. Buffet breakfast is included in the price. Very good choice and fresh. It is very good value for money. The bathroom is a bit small but very clean. There's daily maid service. It is very well located. It is 5 minute walk to Aristotellous square where I was picked up for all of my tours.
I ate dinner twice at the restaurant. One night,I had the Greek salad with Octopus which was way too experimental for me. It was on a bed of "sand". Unfortunately it tasted like sand too. The cucumber was in rolled up ribbons. It was not very well dressed. The other night I had a seafood risotto in a creamy ouzo sauce. It was one of the best risottos I've had in a restaurant. Perfect texture and taste. The staff are extremely courteous and professional.

limefroggy K

Long time since 30 years since I have been to this city, a lot has changed but a lot still remains. This hotel, on the outskirts of the centre is a little gem. Cheap, comfortable, with very accommodating staff. But it is only a 3 star, meaning it has no gym and no… read more30 years since I have been to this city, a lot has changed but a lot still remains. This hotel, on the outskirts of the centre is a little gem. Cheap, comfortable, with very accommodating staff. But it is only a 3 star, meaning it has no gym and no swimming pool. Only 10 minutes to the sea but not close to a sandy beach, however the local bars and restaurants are great and good value for money as if the hotel.

TJS123Rochester

Friendly, central, good value. We stayed 2 nights and were completely satisfied with our experience. Parking was available right outside (and the staff are very good at leaping out to help with manoeuvring), the room was fine in every aspect….our friends had a room that seemed much smaller and more cramped, I must admit…. read moreWe stayed 2 nights and were completely satisfied with our experience. Parking was available right outside (and the staff are very good at leaping out to help with manoeuvring), the room was fine in every aspect….our friends had a room that seemed much smaller and more cramped, I must admit. We had a balcony, fridge, very good Wi-Fi , A/C. Only gripe may have been the tiny bathroom (with shower curtain!) but not really a problem. Very friendly, helpful staff, excellent breakfast buffet….we would definitely use the Olympia again should we need a hotel in Thessaloniki.

Maggyv

Generally nice! The overall impression of the hotel is good. It's location is super. The things we didn't like although it's was decent was the bathroom of the room and the led light behind the headboard. The shower was strange and having a curtain there was not practical. Also the led light… read moreThe overall impression of the hotel is good. It's location is super. The things we didn't like although it's was decent was the bathroom of the room and the led light behind the headboard. The shower was strange and having a curtain there was not practical. Also the led light in combination with the pastel green wall which was nice make the lighting of the room annoying.

stylianosk316

great stuff ,breakfast &location we stayed here two nights. the frontdedk is very helpful for everything asked.the breakfast is great so many ingredients.the location is very good. the room is little small but very modern and well furnished . very good value for money

Orna-rom

Good value for money Olympia hotel
Good location. Good breakfast including Greek options. Not great design in bathrooms: More design than comfort for toilets and shower. Average mattresses and pillows. Wifi was good. Good value for money.

Xaviero76