An ideal setting to relax, do business and engage in recreational activities while you experience the elements of another era.
Many travelers make Domotel Arni their hotel of choice when visiting Karditsa. Providing an ideal mix of value, comfort and convenience, it offers an array of amenities designed for its guests. Make your trip to Karditsa additionally gratifying.  We will make sure that you will enjoy your stay at Domotel Arni as you experience all of the things Karditsa has to offer. After its renovation in 2006, Domotel Arni has transformed into an A-Class hotel, where tradition, history and architecture blend together and coexist in a unique environment.

A bistrot that will steal your heart
Corporate meetings with professional services
Discover the exclusive offers and book your stay today!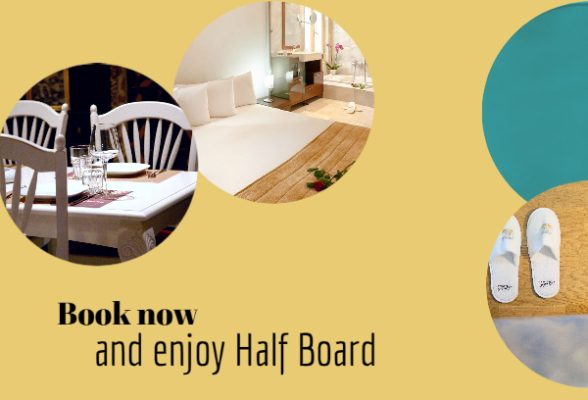 Book Now and Enjoy Half Board
Benefit from our half board offer. Plan your stay and enjoy delicious breakfast and dinner in the restaurant.
Wired & Wireless internet access
Parking (upon request)
This is what customers say about us
A historic, Four Class Hotel with Excellent Service in Karditsa Domotel Arni Hotel in Karditsa is a nice four-star,historic hotel in the very heart of Karditsa City in Thessaly Region, a stone's throw from Central Square of Karditsa (Liberty Square-Plateia Eleftherias), and close to the main Park.of Karditsa (Pafsilipo-Παυσίλυπο-about 5 min walk from hotel) and a good base for an… read moreDomotel Arni Hotel in Karditsa is a nice four-star,historic hotel in the very heart of Karditsa City in Thessaly Region, a stone's throw from Central Square of Karditsa (Liberty Square-Plateia Eleftherias), and close to the main Park.of Karditsa (Pafsilipo-Παυσίλυπο-about 5 min walk from hotel) and a good base for an excursion (half or full day) to the scenic Plastiras Lake (named also Megdova or Tavropos Lake).

The Domotel Arni Hotel is one of the first hotels in the Balkans established in 1921 and therefore is considered to be an architectural gem of rococo style in the great area of Thessaly (cultural heritage), and after the thorough (full) renovation in 2006 it has been transformed to a beautiful modern hotel (with a mix of history, tradition and architecture).

The Domotel Arni Hotel is a nice and comfortable hotel (nice bedding), the room was spacious (with good amenities), very clean, quiet, safe, and carefully renovated and the service of the staff was excellent as they were polite, attentive and helpful (e.g. they reserved a parking space just outside the hotel for our convenience).

The breakfast was very good with excellent Dimello (freddo) cappuccino and very delicious mpougatsa and spanakopita (spinat pie-and both home made), while the Arni bistro room, where the breakfast was served was marvelous (also for smokers- there was the possibility to be served outside the hotel on the open air bar on the pedestrian street).
Throughout the hotel the WiFi was free and without any problems at all.

Summing up I enjoyed and I liked my stay at The Domotel Arni Hotel (with good value for money ) and I would stay again if the opportunity arises.

konstantinosd965

Historic Hotel The exterior and interior lobby etc are beautiful. Our room was adequate. Not as nice as I was expecting based on the price. The price was reasonable but quite high compared to all the other places we stayed in 12 days. The bed was decent. The bathroom okay. I really… read moreThe exterior and interior lobby etc are beautiful. Our room was adequate. Not as nice as I was expecting based on the price. The price was reasonable but quite high compared to all the other places we stayed in 12 days. The bed was decent. The bathroom okay. I really think it was the carpet.Hotels do not do anyone a favor by having old worn carpet. It looks dirty no matter what. The breakfast was included and was a good size but average buffet.

laurakman

A 'Neoklasiko" old building turned to a great boutique Hotel We arrived late and being tired, the good looking lady at reception was so polite and helpful with her instructions how to park in the assigned space just outside the Hotel without charge for the Hotel guests.Then she gave us room 207 a good size room with a King Size… read moreWe arrived late and being tired, the good looking lady at reception was so polite and helpful with her instructions how to park in the assigned space just outside the Hotel without charge for the Hotel guests.Then she gave us room 207 a good size room with a King Size Bed and with big bathroom. The room had also a big window to open to get fresh air and avoid Air Con.The room was nicely decorated and modern and with all the amenities in place. Mattress were also good so we had a good night sleep.
Breakfast was complimentary and great cappuccinos prepared by the lady in charge. Restaurant/bar where breakfast is served it is a beauty ,a great designer' work.
We were surprised to have real fresh orange juice just squished for us. Breakfast was also superb with a variety of food and fruits to choose from.
Karditsa is a nice modern city in Thessalia region we visited for the first time and we were impressed. Arni is a well managed Hotel and with great employees all with a good word to say. It is a mid range Hotel in the center of the city, we think you will have a great stay if you choose it like we did.

Evangelos K

A pleasure stay in Domotel It is lucky to stay in Domotel Arun when we are facing a great trouble in our trip.

We were forced to stay in Karditsa for one night, because we get off from the train wrongly.

Staffs here are very helpful, and provide excellent service with passion.

Otherwise, the building outfit… read moreIt is lucky to stay in Domotel Arun when we are facing a great trouble in our trip.

We were forced to stay in Karditsa for one night, because we get off from the train wrongly.

Staffs here are very helpful, and provide excellent service with passion.

Otherwise, the building outfit and decorations are stylish and classic, which gives us a comfortable and nice experience in this stay over .

lamp h