Redefining hospitality in the northern suburbs of Athens. We offer personalized services and we pay attention down to the very last detail.
Welcome to Domotel Kastri, the definition of a boutique hotel. The lush, pine-covered estate on which the hotel is situated creates a soothing and welcoming atmosphere, while its imposing architecture attests to its elegant past. Its modern interior design places guests in a contemporary setting, while it's highly aesthetical cuisine transports visitors with the very best of Greek gastronomy. Caring personnel with friendly smiles welcome guests warmly, providing impeccable service and legendary Greek hospitality.

Technological Superiority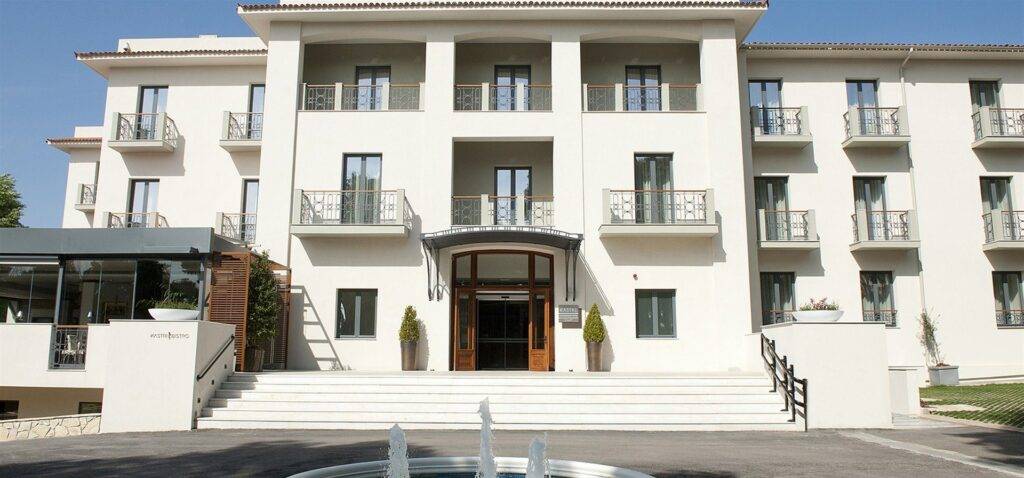 Domotel Kastri is located at the Kastri district of Nea Erythrea, close to the center of Athens and just few steps away from the shopping center of Kifissia. The premium and sufficient roadway network along with the nearby public transportation connects Domotel Kastri directly to the major points of interest of the city of Athens.
Discover the exclusive offers and book your stay today!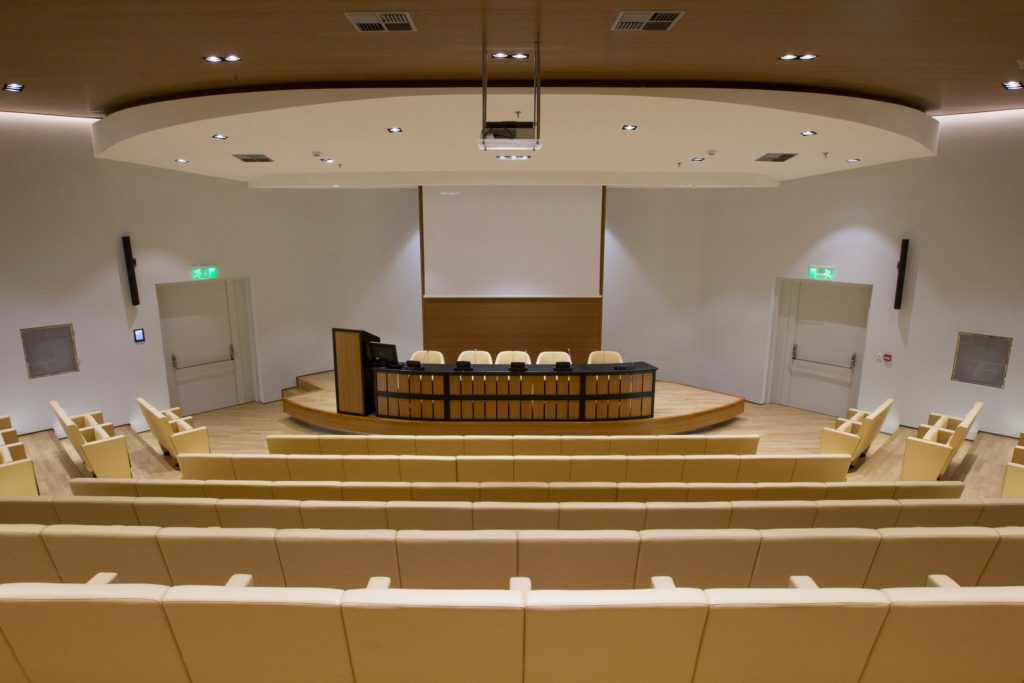 Business Package | - 15% on F&B and Laundry, Free snack | Athens | 160€ person/night
This is what customers say about us
Enjoyable Stay I throughly enjoyed my stay here. The hotel was very clean. The staff was friendly and helpful. Would definitely stay again if ever in Greece. The location is a bit of a ways from Athens itself but the area is nice. There is shopping and restaurants very close by and… read moreI throughly enjoyed my stay here. The hotel was very clean. The staff was friendly and helpful. Would definitely stay again if ever in Greece. The location is a bit of a ways from Athens itself but the area is nice. There is shopping and restaurants very close by and can be reached by taxi for a few euros. Thank you to the staff for an excellent stay!!

SpecialK513

5/21/2017

Nice hotel in the North of Athens Recently renovated hotel. Nice, spacious and clean rooms. Very small gym, no pool.
Good continental breakfast (but no Greek yogurt !!!!).
Located in the north of Athens, around 40 minutes from the historical centre (peak time).
Not ideal if you come to Athens on holiday.

Andrea G

10/09/2017

Good hotel We stayed at Domotel Kastri one night after late evening arrival at Athens airport on our way to north, towards Thesaloniki.
It's really nice hotel, friendly staff, big rooms, modern and nicely designed, there is parking space on the grounds. The bathroom was also big and comfortable, the only minus was… read moreWe stayed at Domotel Kastri one night after late evening arrival at Athens airport on our way to north, towards Thesaloniki.
It's really nice hotel, friendly staff, big rooms, modern and nicely designed, there is parking space on the grounds. The bathroom was also big and comfortable, the only minus was that there was no showerhead holder.
The breakfast was rich and very tasty. After reading some reviews I asked for a quiet room not facing the main road, and we slept very well.
I guess the location is not very close to touristic locations, but for us it was very good as we were on the way from airport upnorth and didn't want to come into the city center.
Recommended.

ybgy y

10/05/2018

Nice experience A modern hotel with all the accommodations , a little bit far from the city in case you want to tour around , nice and clean rooms , polite staff , interesting breakfast with several tasty options sweet and sour .

244miltiadisb

10/26/2016

Excellent hotel My company booked this hotel for me as it's now one of our preferred hotels. I have to say it is a lot better than the usual ones I have stayed in. The service is 10 out of 10. The staff are extremely polite and helpful, the hotel is clean,… read moreMy company booked this hotel for me as it's now one of our preferred hotels. I have to say it is a lot better than the usual ones I have stayed in. The service is 10 out of 10. The staff are extremely polite and helpful, the hotel is clean, the rooms are of a very high standard. The breakfast is high quality and presented well.
Will stay here again.

snelljustin27

11/14/2017

nice alternative to Kifissia the hotel is located in a splendid neighbourhood not far from Kifissia. It is a bit far from the city however very good alternative if you need to be around the northern suburbs of Athens. The hotel seems to be renovated however needs some improvements in the rooms. The… read morethe hotel is located in a splendid neighbourhood not far from Kifissia. It is a bit far from the city however very good alternative if you need to be around the northern suburbs of Athens. The hotel seems to be renovated however needs some improvements in the rooms. The shower was clogged and there were some wears and tears in the bathroom.Attentive staff and very good breakfast quality and quantity wise. The restaurant is good and cosy however the common areas may need some touch and the bar area, especially the outdoor part needs some improvement. can be considered as a good alternative to the hotels in Kifissia if you catch a good rate. Rooms near the main road can be noisy.

ErolBrc

5/27/2018

A perfect stay for a business trip ! I have spent 3 nights for a business trip in this hotel: the restaurant of the hotel is just fantastic and all the staff is friendly and professional. The beds are very comfortable and you can chose your pillow ! in the bathroom the local amenities with specific honey smell… read moreI have spent 3 nights for a business trip in this hotel: the restaurant of the hotel is just fantastic and all the staff is friendly and professional. The beds are very comfortable and you can chose your pillow ! in the bathroom the local amenities with specific honey smell are very qualitative. The only point to improve will be the sport gym, even if you have the right equipment the space could be more cozy and in this kind of hotel you can expect at least in sauna. If I have the opportunity to go back to Athènes ( and I hope so !) I will go back to this hotel with any doubt.

lilie44

4/11/2017

A Beautiful and modern hotel – away from the crowds of Central Athens This property, formerly a bank building, is a brilliant find if you're looking to stay in the Kifissia area in the north of Athens city. Its reasonably-priced, yet exudes a modern and classy feel. The surrounding area is green with lots of parks and good places to hang… read moreThis property, formerly a bank building, is a brilliant find if you're looking to stay in the Kifissia area in the north of Athens city. Its reasonably-priced, yet exudes a modern and classy feel. The surrounding area is green with lots of parks and good places to hang out. Its served by adequate public transport to central Athens – so you won't feel like you're missing out on all of the action there. I was pleasantly surprised.

tsgill

10/10/2017

Excellent place, noisy though The hotel itself is very nice. The staff is helpful, professional and very kind.
The rooms are very nice and very the bed comfortable. However the sound insulation os not good. This has been my second time there and again even closed I could hear everything.
The gym is simple… read moreThe hotel itself is very nice. The staff is helpful, professional and very kind.
The rooms are very nice and very the bed comfortable. However the sound insulation os not good. This has been my second time there and again even closed I could hear everything.
The gym is simple but good.
The breakfast is excellent with fresh juice and lost of variety of food.

jeanstephaner2016

3/08/2019

Helpful staff All the staff was very helpful and made the difference during our stay!
The kitchen staff provided us anything we needed and made everything easier.
Of course the hotel doesn't need any rating as it takes an obvious 5 star.

Kostas T

7/02/2018

Very beautiful and quiet and excellent porsche location Stayed for 90 days as was on a business trip, very beautiful and comfortable rooms, outside walking area and an in house gym all are quiet comfortable. A nice garden and clean and green atmosphere. A beautiful coffee shop and restaurant which makes you keep live all the time.

Vijay B

12/09/2017

Lovely service, nice room and decent room service I stayed for 5 days on business, at the recommendation of my client, and was not disappointed. The hotel is within easy walking distance of Nea Erithrea and not far from Kifisia. It's modern, stylish enough without going over the top and the staff are extremely pleasant. … read moreI stayed for 5 days on business, at the recommendation of my client, and was not disappointed. The hotel is within easy walking distance of Nea Erithrea and not far from Kifisia. It's modern, stylish enough without going over the top and the staff are extremely pleasant. I was running training courses in the attached conference centre where the service was equally good. Room service food was good, and plentiful without being overpriced. All in all, I felt the hotel offered good value for money. It wouldn't suit someone who wants to spend the week sightseeeing, because it's out in the suburbs,.

David_Cotton

12/13/2016

Good stay overall despite some hiccups This was a 9 day stay with family. The staff were quite helpful despite some issues that we encountered during our stay. They were always polite and understanding.
The breakfast was excellent with a wide variety of quality pastries, etc.
The food at the restaurant was also excellent (despite the chef having… read moreThis was a 9 day stay with family. The staff were quite helpful despite some issues that we encountered during our stay. They were always polite and understanding.
The breakfast was excellent with a wide variety of quality pastries, etc.
The food at the restaurant was also excellent (despite the chef having a slight obsession with deconstructing everything 😉 )
As far as WiFi is concerned it was of average quality as is typical of most hotels I've been to.

TheBeardedLlama

12/06/2017

One of the most wonderful hotels in the north Athens Great location, excellent stuff just a wonderful place to stay and not only for working reasons …
A very comfortable room (superior with 2 beds) and very clean.
A perfect breakfast in a beautiful area.
Don't forget to take a dinner at the restaurant.

dimitris_kotsanis

4/03/2017

Nice place out of town, very nice and helpfull staff The hotel is located a bit north of Athens in a nice residential area. You are located far away of the touristic center, so you get more i touch with `real`Athens. The area seemed us very safe. In the center of Nea Erithtrea – some 10-15 min. by feet -… read moreThe hotel is located a bit north of Athens in a nice residential area. You are located far away of the touristic center, so you get more i touch with `real`Athens. The area seemed us very safe. In the center of Nea Erithtrea – some 10-15 min. by feet – you find both local taverns and sophisticated restaurants. By taxi, it takes about 10 min./5 € to go to Metro-Station Kifissià. About 30 min. later you are downtown Athens. The advantage staying a bit outside is, that the place is located a bit higher and so it is much fresher than in the lower centre.
If you are sensitive to noise, you should consider that the hotel is near to a street with plenty of traffic, so you cannot sleep with open windows. But the noise is drasticly reduced with closed windows.

Kaspar E

7/03/2017