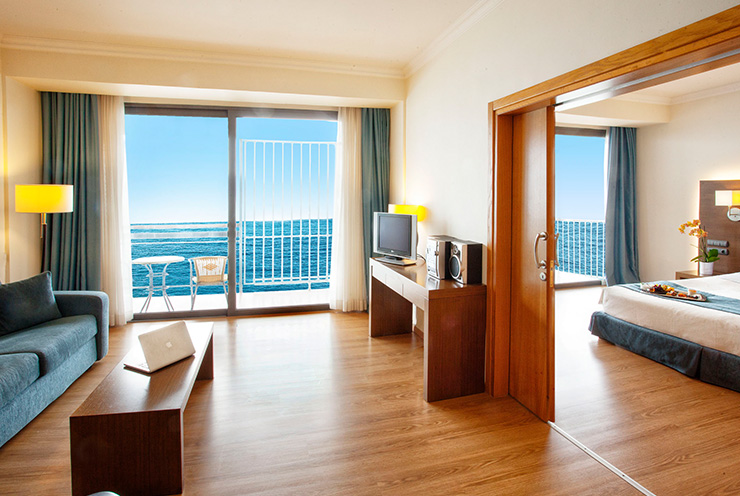 Terza tappa del tour in Grecia Un hotel abbastanza grande con una bella vista sulla valle. La nostra stanza era al quarto piano, molto grande con il caminetto e una scala che portava su un soppalco,peccato però non avevamo il balcone ma una finestra un po particolare.Anche il bagno era grande non aveva la doccia ma una vasca,dotato di tutti i confort.La cena sinceramente non è stata un granché ma abbiamo mangiato comunque.La colazione invece ottima e abbondante con tutto il necessario per fare una buona colazione.Per una notte ci si può accontentate.

Well located, quiet choice We only spent 2 nights but the location suited us as everything is within an easy walk yet it's not on the noisy esplanade. Our room was small though comfortable but it did have an impossibly small bathroom and there were no tissue provided, though the small balcony was a plus. The staff were all truly excellent.

εξαιρετικη εξαιρετικη Tο πρωινο με αριστα το 10 περνει 7


Lovely, but definately not 5* quality! We visited Xenia Volos just two days for the occasion of visiting our friends in Volos. The hotel is pleasant, the Staff were friendly and helpful, and our stateroom was clean.The Spa area is beautiful and well equipped (although some of the facilities were out of order), offering good variety of treatments by well qualified therapists.
However the mattress was quite old and not as comfortable as it should be. The carpeting in the corridors was not very clean and this was visible.
Furthermore our bathtub was stained with rusted areas.
Coffee station in the room was not provided, and as i was told when i requested for it,this is only provided in the suites.
The hotel restaurant offers a full menu with some delicious dishes. The breakfast is also very good with numerous choices.
One of the things they stood out about the hotel, is of course the location of the property who offers a great view at both sides, (sea & city).
Given all the pros, we are not certain whether we will return, as our expectations for 5* were not met.

jung und frisch Das Hotel hat erst dieses Jahr eröffnet. Das merkte man Personal und Substanz an!
Freundlich, nett und sauber alles.
Prima Frühstück, Überwachter Parkplatz kostenlos. Wlan kostenlos und gut.
Badezimmer mit Pflegeprodukten etc.
Leider für einen Stadtbesuche Athen weniger geeignet

Amazing views, remote location.. Our tour group arrived at this hotel and were greeted with complimentary ouzo, which was a nice touch. We got a newer room which was like a cabin with a fireplace, very rustic and we had a balcony with a view from the side which was very nice. Buffet dinner was below average, meats were tough, I found some salad and pasta to tide me over, my husband could not and went to bed pretty hungry that night, it was a bland buffet. Not much to offer in the town either. Its more a winter destination. Breakfast the next morning was mediocre at best.

Skønt hotel Agios Nikolaos i Sivota er et skønt og lækkert hotel. Værelset (nr. 1362) var nybygget og utroligt lækkert indrettet. Badeværelser meget stort. Rigtige dyner, hvilket jeg elsker. Vi havde udsigt ud over havet og nød den utrolige udsigt og alle de både, der sejlede forbi. Mange liggestole ved hotel (strand samt øvrige områder) dog ikke ved pool. Morgenmaden havde alt hvad jeg behøvede (og mere til).
Ulempe - man skal gå 1,2 km for at komme til byen, hvor nærmeste spisesteder ligger, hvis man ikke spiser på hotellerne. Og der er stejle bakker - både ud og hjem - men vi tog det som dagens motion, de 2 gange om dagen, vi gik ned for at spise i byen. Taxa koster kun 5 euro, så det er en mulighed, hvis man ikke orker turen. Alt i alt en hotel med fantastisk udsigt, som jeg kun kan anbefale

Dienstlicher Aufenthalt wurde durch guten Service versüßt Der Service war sehr gut. Das Personal sehr hilfsbereit. Mein Zimmer ging nach hinten raus in den Innenhof. dadurch war von der viel befahrenen Strasse nichts zu hören. Das Frühstück ist okay, wenn auch nicht sehr abwechslungsreich. dafür ist auch hier der Service sehr gut. Mangelhaft ist lediglich der Conference Raum, da hier die ganze Zeit der Geruch von Diesel / Öl wahrgenommen werden konnte.

Exceptional Exceptional Η θέα Ο θορυβος απο το παρακειμενο bar

ΥΠΕΡΟΧΟ! Υπεροχο ξενοδοχειο, παρα πολυ καθαρο, ανακαινισμενο πληρως, σε πολυ κεντρικο, αλλα ησυχο σημειο- 3' απο την πλατεια Αριστοτελους,φοβερο πρωινο- καλυπτει καθε αναγκη, το δωματιο ηταν παντακαθαρο και με πολυ ανετους χωρους κ κρεβατι!Το προσωπικο ειναι παρα πολυ ευγενικο κ εξυπηρετικο!Για τις παροχες του, ειναι παρα πολυ καλη η τιμη του!Σιγουρα θα ξαναμεινω!

Excellent choice in north part of Athens We had good recommendation for the hotel from a friend and truly it is an excellent choice. The area is very beautiful and the buildings are a sample of high architectural design of the early 60's. Staff are very helpful and polite. Rooms are big enough and clean. Breakfast is traditional Greek with influence from Thessaloniki which I like very much. The only small disadvantage is that the place is about 30' to 45' from the city center.

Επισκεφτήκαμε το συγκεκριμένο ξενοδοχείο πρώτη φορά με την γυναίκα μου και τα δυο ανήλικα παιδιά μας. Στα θετικά είναι :|-το σημείο του πας με τα πόδια στο κέντρο.|-θάλασσα μπροστά .|-πεντακάθαρο |-το προσωπικό ευγενέστατο |-προσεγμένοι χώροι |-τιμες προσιτές για αυτά που προσφέρει |-τα δωμάτια άνετα με όλες τις ανέσεις |Στα αρνητικά βάζω τα spa τα οποία ήταν κλειστά δήθεν για τεχνικούς λόγους αλλά θα ήθελα να είχα ενημέρωση πριν πάμε στο ξενοδοχείο και όχι κατά την άφιξη μας εκεί . Νομίζω για τα λεφτά που πληρώνεις επρεπε να είχαμε ενημέρωση .

Σχολιαστής του TripAdvisor

Mini suite Φανταστικό ξενοδοχείο
Επιλέξαμε mini suite
Με την αφίξει μας,μας αναβάθμισαν το δωμάτιο με θεα όπως είχαμε ζητήσει.
Καθαρό δωμάτιο,ευγενικό το προσωπικό..σίγουρα θα το ξανά προτιμήσουμε την επόμενη φορά..ευχαριστούμε για όλες τις υπηρεσίες και για την ευχάριστη διαμονή που μας προσέφεραν!

nice alternative to Kifissia the hotel is located in a splendid neighbourhood not far from Kifissia. It is a bit far from the city however very good alternative if you need to be around the northern suburbs of Athens. The hotel seems to be renovated however needs some improvements in the rooms. The shower was clogged and there were some wears and tears in the bathroom.Attentive staff and very good breakfast quality and quantity wise. The restaurant is good and cosy however the common areas may need some touch and the bar area, especially the outdoor part needs some improvement. can be considered as a good alternative to the hotels in Kifissia if you catch a good rate. Rooms near the main road can be noisy.

Bien placé moderne très propre Tout près du centre on peut tout faire à pied
Très moderne très bien tenu
Petits bémols
Personnel peu aimable il donne la clé un point c'est tout
Pas de parking il y a un arrangement avec un garage voisin mais on ne vous en informe pas.
Je reviendrai dans cet hôtel à cause de l'emplacement

An average hotel Arrived on 1st of Jan 2018 and left earlier than plan by 2 days due to an unexpected cold weather that caused some of the ski slopes to shut down and unclear visibility caused by fog. Location of the hotel is good, 3 minutes drive to main town center and 40 minutes drive to ski slopes. Only tried breakfast at the hotel which was good. There were some confusion in the rooms reserved and one room was smelly and worn out, while the other room was average. Unfortunately the executive rooms are upgraded and a bit modern (recommended). The GM of the hotel tried to fix the rooms confusion as much as possible so we (family of 6) ended up in the executive room (2 floors) as a best solution. If you decide to stay in this hotel then go for the front view of the hotel. The hotel has a gym, heated pool and sauna. There are other unexplored hotels in the town so you can check them as well if you decide to go there. The town has 1 main small street where all the shops, Restaurants, cafes and bars are located. Make sure to be precise in your ask when booking at this hotel.

BUSINESS TRIP Hospitality was great, all along. Very neat and very noce place to stay in .
Will come back for sure!
Very well received at reception, explained all the facilities and the neighbourhood, and places to see and that I needed.
Very warm welcome, really.
Breafast very pleasant and personnel very friendly

La vue mer sympa, proche du centre et en même temps assez calme. Le bar du yacht club sur le toit de l'hôtel vaut le détour..

Das Hotel lässt keinen Wunsch offen Ein sehr schönes Hotel mit viel Liebe im Detail. Die Zimmer haben alle einen
sehr schönen Ausblick. Der Service genial, besonders Fr.Irene Lampiri(Front
Office Manager) die sehr angagiert und hilfsbereit ist. Auch die Gastronomie
ist sehr gut, ich konnte nichts negatives sagen, über diese schöne Anlage.
Die Hotelanlage liegt in Sivota, man kann in ca. 1 km Entfernung schöne Bars
sowie Restaurants auffinden. Kein Massentourismus sondern, dass was man
sich wünscht für einen entspannten Griechenlandurlaub.

Ruhiges, am Strand gelegenes Stadthotel, sehr gepflegt Das Xenia liegt am Strand unweit des Hafens von Volos. Mit Zimmer zum Meer begleitet Meeresrauschen und nicht Autolärm den Aufenthalt, obwohl das Hotel unweit des Zentrums liegt. Zimmer, Ausstattung und Service sind gut. Schöner Pool für die Gäste. Preis/Leistung sehr gut und ein recht üppiges Frühstücksbüffet rundet den angenehmen Aufenthalt ab.

Staff: 4,Servizi: 4,Pulizia: 4,Comfort: 4,Rapporto qualità-prezzo: 4,Posizione: 4

Διήμερο με φίλους Φτάσαμε στο ξενοδοχείο , το οποίο βρίσκεται 900 m από το κέντρο της Αράχωβας σε όμορφη τοποθεσία και καθόλου απαγορευτική να την περπατήσεις αν θέλεις να γλιτώσεις το δύσκολο θέμα του παρκαρίσματος μέσα στο χωριό !!! Η υποδοχή αρκετά καλά με ευγενικούς και πρόθυμους ρεσεψιονίστες να μας βοηθήσουν στις απορίες μας . Είμασταν δυο ζευγάρια και οι τύποι δωματίων που κλείσαμε μια μίνι σουίτα και ένα δίκλινο στάνταρ . Η σουίτα που ήταν για εμάς , ήταν ένα δωμάτιο αρκετά μεγάλο γύρω στα 35 τμ με ένα επισης αρκετά μεγάλο μπάνιο το οποία ήταν αρκετά καθαρά ( θα μπορούσε να ήταν και πιο καθαρό ) , και διέθετα και μπανιέρα και καμπίνα ντους . Το δωμάτιο διέθετα ένα μεγάλο διπλό κρεβάτι με ωραίο και άνετο στρώμα και διακόσμηση ρουστίκ η οποία κυριαρχούσε παντού ( η αλήθεια είναι ότι θέλει μια μικρή ανανέωση επίπλων όπως και αλουμινίων ) , τζάκι με δωρεάν ξύλα και έπιπλα για κάθε ανάγκη καθώς και μια επίπεδη τηλεόραση . Ο χώρος πολύ ζεστός αφού έχει και air condition και μονάδα θέρμανσης . Το στάνταρ δωμάτιο που είχε το ζευγάρι της παρέας χρήζει ανακαίνισης επειγόντως , αδιάφορο παντελώς από έπιπλα , χώρο και ......στρώματα !!! Το πρωινό σε μπουφέ αρκετά καλό και πλούσιο , περιείχε σχεδόν τα πάντα γευστικά και σε απεριόριστες ποσότητες που τις ανανέωναν συνεχώς , ο καφές απερίγραπτος !!!

Staff. Pool. Beach and sea. Access to Volos. Easy walk to ferries..

Το προτείνω χωρίς 2η σκέψη. Άνετο δωμάτιο πέρα και από το υπέρδιπλο κρεβάτι. Πολύ καθαρό με μεγάλο μπάνιο. Άνετο parking. Σημείο εξαιρετικό... μέσα στη φύση, πολύ κοντά στην Κηφισιά, πολύ γρήγορη πρόσβαση σε κεντρική αρτηρία για να πας προς κέντρο ή ακόμα και να βγεις εκτός Αθήνας. Για εμάς που φτάσαμε από Θεσσαλονίκη φτάσαμε ακαριαία! Γυμναστήριο με λίγα βασικά όργανα. Το εστιατόριο καλό. Μάλλον ακούσαμε πολύ καλά λόγια και οι προσδοκίες ήταν πλέον πολύ μεγάλες.

Una notte "tocca e leva" Una notte sola non sempre è sufficiente, comunque il nostro pernotto è stato positivo. L'Hotel ha un'ottima posizione con vista panoramica sulla zona. Camera tipo "suite" con ingresso e salotto con camino, bagno grande con corridoio-armadio. Pulita e ben tenuta. Sia cena che colazione a buffet positivi nella qualità e nella quantià. La comodità è quella di essere vicini alla zona archeologica di Delfi

Комфортно Расположение неплохое (рядом Римский форум), до остальных достопримечательностей можно добраться пешком (город не очень большой). Но вот до всех классных таверн, конечно, идти как до достопримечательностей, т.е. минут 20-25 🙂 Завтраки отличные, большое разнообразие, есть из чего выбрать, если живете около недели, не придется есть одно и тоже. Номер чистый, прибирались каждый день, меняли полотенца в том числе, хотя у них вроде бы политика "полотенце на вешалке - клиент еще будет пользоваться". Звукоизоляция с улицей шикарная, при закрытых окнах не слышно ничего, а это очень полезно, т.к. в городе гуляют до утра 🙂 Wi-fi отличный на всей территории отеля, персонал дружелюбный, есть русскоговорящие сотрудники.
Не очень хорошая шумоизоляция от коридора, если соседи кромко говорят в коридоре или хлопают дверью, то вы все это услышите. Также в номере паркет (не ковровое покрытие), поэтому соседей сверху, топающих или двигающих мебель, очень хорошо слышно. Дверь в туалет - стеклянная с матовым покрытием, если путешествуете семьей, то ничего, а вот если с подругой/другом или с коллегой делите номер, то могут быть проблемы 🙂

Comfort overlooking the Gulf We have stayed here previously, but it is a beautifully located hotel overlooking the Pagasitikos Gulf, with the mountains of Evia in the far distance. It is extremely comfortable with air conditioning in every room and generous sized rooms and ensuite bathrooms. We arrived late and so missed a meal, but breakfast was excellent.

Bien placé Excellent emplacement pour visiter Delphes et son musée.
Les chambres sont assez spacieuses et un peu datées avec une très belle vue.
Les repas sous forme de buffet sont bons mais sans surprise .
C'est un bon hôtel d'étape sans plus, trop de groupes, trop de va et vient, néanmoins le personnel est agréable.

Η καλύτερη επιλογή!!! Επισκεφτήκαμε το ξενοδοχείο σαν πρώτη φορά στο χωριό με τον αντρα μου και ενθουσιάστηκαμε παρα πολυ τόσο με την φιλοξενία όσο και με το ποσό διαθέσιμοι ήταν όλοι να μας εξυπηρετήσουν!Τέτοια ευγένεια δεν ξαναειδαμε τα κορίτσια στην ρεσεψιόν Ηρω και Κρίστη ηταν πάντα χαμογελαστά και μας βοήθησαν πολύ στις επιλογές που κάναμε για τις διακοπές μας στον παλιό οικισμό του Άγιου Αθανάσιου. Τα παιδια στο σέρβις και στο σπα το ιδιο καλά. Ευχαριστουμε θερμά την Ηotel manager του ξενοδοχείου κύρια Σοφία η οποία μας έδωσε ένα υπέροχο δωμάτιο με τζάκι και υπέροχη θέα. Το ξενοδοχείο πάντα καθαρό και ζεστό με υπέροχη κουζίνα και γλυκά. Θα σας επισκεφτούμε σίγουρα ξανα σας ευχαριστούμε για όλα!!!

Best choice in Volos This is probably the nicest hotel choice in Volos. Beautiful views on one side. We had a triple room on the other side but the extra space made up for lack of view. Rooms were very clean. Staff was very nice and breakfast was excellent with good choices on a lovely terrace. The only complaint was the hallway carpet looks terrible. We will stay here every time we visit Volos.